Relationships
Why one single Brooklyn woman lowered her expectations
By Jocelyn Voo
New  York Post | November 9, 2013
In September, a report by online dating site Are You Interested crowned Brooklyn women the pickiest online daters in the nation. As a fervent advocate of Internet dating and someone who just celebrated her 10-year New Yorkiversary, I found this entirely believable. This is, after all, a city of people who demand their coffee cold-pressed and their yoga studios WTF-hot.
The filters on dating sites give us license to be equally persnickety, sorting suitors by everything ranging from age to astrological sign. With a few clicks, you've got a bunch of algorithmically determined Prince Charmings waiting for you.
Or so it would seem. After years of off-and-on activity, none of my 70 percent-plus mathematical matches has proven to be an everlasting real-life match. Maybe, if this study holds true, I really should stop keyword-searching for world travelers and roboticists (hey, we all have our quirks).
And so I decided to embark on a week of being completely unpicky, seeking out OKCupid guys who ranked as close to 0 percent match/100 percent opposite as possible. I mean, this could possibly net me my soulmate — right?
When She Earns More Than He Does
By Jocelyn Voo
CNN.com | Sept. 5, 2008
(LifeWire) — When Barrie Worflar of Bloomfield, New Jersey, was unexpectedly laid off in April 2007 from his job as assistant branch manager of a bank, he found work as a representative in a benefits call center. He also took a $10,000 pay cut.
End result? His wife, Helen Freire, makes almost twice the money he does.
Moving in Together and Avoiding a Falling Out
By Jocelyn Voo
CNN.com | August 18, 2008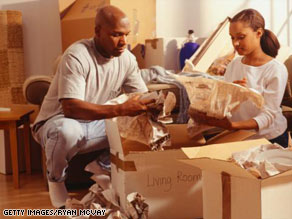 (LifeWire) — After weathering a troublesome roommate situation for a year, Dave Sotelo, 26, was ready to move out. His girlfriend, Ngoc Nguyen, had the perfect solution: moving in together.
It's better to find a new place to live than to move into one person's established home, says expert.
"Conveniently, an apartment in my four-unit building became available at the very same time," says Nguyen, 26.
There are obvious advantages to cohabitation, both emotional (living with the person you love) and financial (sharing expenses like rent).
The drawbacks are just as glaring, like adjusting to annoying personal habits and accommodating your loved one's passion for knickknacks that make your cringe.
One thing's for certain, experts say — the more you discuss before you move in together, the more likely your relationship will succeed. Sotelo's and Nguyen's certainly has improved in the year and half they've lived together.
"We're engaged!" Nguyen says happily. The wedding is scheduled for August 26.
The Albany, California, couple is in good company: According to The State of Our Unions 2007, a report by the National Marriage Project at New Jersey's Rutgers University, "over half of all first marriages are now preceded by living together, compared to virtually none 50 years ago."
Arranged Marriage Gets High-Tech Twist
By Jocelyn Voo
CNN.com | Apr. 23, 2008

(LifeWire) — When it was time for Sabiha Ansari to get married, her parents flew her to India. She met her husband-to-be for less than 20 minutes, with family, then was asked whether she liked him.
"That was really hard for me," she says. "I kind of wanted to have some time alone with him to talk to him, or even on the phone."
But she said yes, and they were married five days later. That was in 1991.
Things were different for Sabiha's younger sister, Huma Ansari, in 2005.
Platonic Work Flirting: Good for Business?
By Jocelyn Voo
CNN.com | Feb. 5, 2008

(LifeWire) — They ate lunch together almost every day. They commiserated over professional and personal woes, and when projects ran long at the San Francisco architecture firm where they were both summer interns, they checked building plans together until they were sprung from the office at 10 p.m.
"She was fun to hang out with, and sometimes she would do things that some might consider flirty, like run a hand through my hair to mess it up," says Hayes Shair, now 25. "Sometimes I'd sort of flirt back."
But Shair was dating his college sweetheart at the time. This woman was more like his "work girlfriend" — a coworker with whom one flirts platonically during office hours but without any romantic intentions.
Choosing Sides When Couples Divide
By Jocelyn Voo
CNN.com | Jan. 28, 2008

(LifeWire) — Whether you offer a sympathetic ear, provide a shoulder to cry on or drag a despondent buddy out for an evening on the town, your responsibilities are pretty clear when a friend goes through a breakup: Listen, lend support, and when it's time, help your friend pick up the pieces and move on.
But what should you do when you're friends with both parties? Where should your loyalties lie, and how can you avoid alienating either member of the couple?
Why Bad Kissers Don't Get to Second Base
By Jocelyn Voo
CNN.com | Dec. 3, 2007

(LifeWire) — Bad kissers — we've all locked lips with one: the lizard, the washing machine, the cannibal, the spelunker.
"I knew this girl that I'll call Big Tongue," recalls Craig Hinkle, 38, a Westminster, California-based network administrator. "Her tongue was massive, and she insisted on trying to put the entire thing in my mouth. She was very forceful with it, and I started choking."
You can guess that relationship didn't last. And now, what Hinkle knows from experience is actually backed up by science: Bad kissers have little chance of getting to second base.
Some Digital Neighborhoods Better for Dating
By Jocelyn Voo
CNN.com | Nov. 19, 2007

(LifeWire) — With social networking sites like Facebook and MySpace now in the digital dating mix, there are plenty of new chances to meet the right — and wrong — people online.
Grayson Currin, 24, of Durham, North Carolina, who describes himself as a "big, burly guy," posted his band's photograph on his MySpace account and started getting messages from a girl in Canada who had a thing for large, hairy guys. "It felt a little unnatural to me," says Currin. "I don't send messages to random girls. I think that's creepy."
Jennifer Kelton, a Los Angeles-based writer and creator of the social networking and dating site BadOnlineDates.com maintains that social networking sites offer an attractive alternative to more established online dating sites like Match.com or eHarmony.
"People are fed up with the online dating world," says Kelton. "They realize that there is a lot of misrepresentation out there. On a social networking site you are interfacing with people on a different level. Facebook and MySpace create more of a safe and loving environment," she contends.
Dating After Divorce: When to Reveal Your Past
By Jocelyn Voo
CNN.com | Nov. 6, 2007

(LifeWire) — After his 10-year marriage ended in 2004, New Yorker Phil Lee, 42, found himself tagged with the modern-day scarlet letter: "D" — divorced. He wondered how that (not to mention his three children, ages 19, 11 and 9) would affect his future dating life.
The fitness-business owner says it hasn't been much of a hindrance. In fact, his children are usually an icebreaker.
"At my age, a lot of the women I meet have children themselves, so it's generally a back-and-forth over each other's children," says Lee. He jokes, "Women that don't have children and don't want to have children don't really talk to me."
Although the divorce rate is the lowest it's been since 1970 (3.6 per 1,000 people), about 40 to 45 percent of all marriages will end in divorce, according to an Associated Press estimate.
A Dutch study this year showed that divorce reduces one's chances of having a new, successful relationship — slightly more for women than for men. Children reduced the chances further. It's no wonder newly dating divorcees may be hesitant to mention the details.
Cheap Date: What to Do?
By Jocelyn Voo
CNN.com | Nov. 2, 2007

(LifeWire) — Anna Hake, 24, and her boyfriend were hunting for some interesting — and inexpensive — ways to spend time together. Their solution: making a date to attend the Folsom Street Fair in San Francisco, touted as the world's largest showcase for S&M products and culture.
"We walked by a table with floggers and whips on it, and the guy running the booth encouraged us to give it a try," says Hake, a nonprofit organization program coordinator who lives in San Francisco. "We both looked at each other and were, like, 'When in Rome…' "
Though the couple decided it ultimately wasn't for them, the experience was memorable.
"We may not be into bondage," Hake says, "but it was good for bonding."
And all it cost was a small donation that benefited local nonprofits.
Love Addiction: How to Break It
By Jocelyn Voo
CNN.com | Oct. 16, 2007

(LifeWire) — After a break-up with with your spouse, significant other or love of your life, you might try to remain friends with your ex, slowly cut off contact, or torch every last relic of the relationship.
But one thing is inevitable: Eventually you have to move on. So why is it that some people have a hard time letting go, months or even years after ending a relationship? Although it's natural to mourn the loss of a relationship, some people take such feelings too far.
Sex and Dating After 50
By Jocelyn Voo
CNN.com | Oct. 9, 2007

(LifeWire) — Like 20- or 30-something singles, older men and women are dating and embracing their sexuality. But many older singles — some of whom have already been down the aisle — aren't looking to exchange their single status for a band of gold.
"We are not aiming for great changes in the second half of life, but looking for fulfillment in who we are now," says Sharon Romm, a Seattle-based psychiatrist and author of "Dating After 50: Negotiating the Minefields of Midlife Romance."
"Not everyone wants another marriage. Someone might want a companion for going to concerts on Saturday night and not much more. Others might absolutely want — or not want — sex as part of another relationship."
Public Affection: How Much is Too Much?
By Jocelyn Voo
CNN.com | Sept. 28, 2007

(LifeWire) — When actor Richard Gere swept Bollywood actress Shilpa Shetty into his arms and planted several kisses on her during an AIDS awareness event in New Delhi, the act prompted an Indian court to issue a warrant for his arrest.
Though Gere's behavior was tame by American standards, it was deemed obscene in India, where such public displays of affection (also known as PDA) are frowned upon.
Reaction to that caress earlier this year was so intense that posters of Shetty and effigies of the "Pretty Woman" actor were burned. Five months later, the actress was wrongfully detained on the obscenity charges, her publicist, Dale Bhagwagar, told The Associated Press.
That kiss involved two actors at a publicity event in Asia, but even in the United States, people struggle with PDA and deciding how much is too much. And even married couples can take some heat over the issue.
Why Do Unmarried Couples Opt Out of Wedlock?
By Jocelyn Voo
CNN.com | Sept. 19, 2007

(LifeWire) — First comes love, then comes marriage — or at least that's how the saying used to go. An increasing number of heterosexual couples have been shacking up without plans for a trip down the aisle.
According to a 2003 U.S. Census Bureau report on families and living arrangements, 4.6 million U.S. households were occupied by unmarried couples of the opposite sex. That's up from 2.9 million in 1996.
"People don't question, 'Why did you get married?' They only ask you, 'Why haven't you gotten married?' " points out Marion Willetts, an associate professor of sociology at Illinois State University. "I think a lot of people feel if you were really serious about your partner and your relationship, then you'd get married."
But from what Willetts has found with the life partners she's spoken to, that is simply not true. "They're in this for the long haul," she says. "This isn't just some convenient thing or trial marriage. They're just as committed to their relationship as married people."
Older Women and Younger Men: Can It Work?
By Jocelyn Voo
CNN.com | Oct. 17, 2007

(LifeWire) — Older woman seduces younger man. Sound familiar? It's a scene from the 1967 coming-of-age classic "The Graduate."
But high-profile Hollywood couples like Susan Sarandon and Tim Robbins (12 years her junior) — who met and began dating while filming an on-screen romance in the 1988 movie "Bull Durham" — have proven that life can indeed imitate art when it comes to matters of the heart.
Theirs, however, is a real-life love story of an older woman and younger man — something that is not so uncommon nowadays. A 2003 study by AARP revealed that 34 percent of all women over 40 in the survey were dating younger men, and 35 percent preferred it to dating older men.
Does Your Love Life Need a Wingman?
By Jocelyn Voo
CNN.com | Sept. 13, 2007

(LifeWire) — Many men are not natural-born charmers when it comes to talking to women they find attractive. It's hard work sounding witty and engaging when you're fighting back nerves.
As Mystery, the self-styled Casanova and host of the VH1 show "The Pickup Artist" explains, a wingman can help attract a woman at a bar or a club — he's someone who will talk you up, make the introduction and even help you get her phone number.
But not every guy is well-suited for being a wingman, says Ron Geraci, 37, a New York City-based relationships expert and author of "The Bachelor Chronicles." Here is a checklist of qualities to look for in an effective wingman — and a few tips on which buddies to avoid.
Making Long-Distance Relationships Work
By Jocelyn Voo
CNN.com | Sept. 6, 2007

(LifeWire) — Developing emotional closeness with someone is hard work. Imagine the challenge if there are thousands of miles between you.
Whether it is the war in Iraq or a career move to a new city that separates lovers, there are several ways to maintain a long-distance relationship.
How to Handle an Office Romance
By Jocelyn Voo
CNN.com | Aug. 30, 2007

(LifeWire) — Turns out work isn't all about profit margins and PowerPoint presentations. A major aspect of office life is your social encounters: who you're working with, who you're sharing happy hour with and for some, who you're trying to woo the pants off of — literally.
Forty-three percent of workers in the United States say they've dated a fellow employee; of those, 34 percent reported getting hitched, according to a 2006 survey on office romance by CareerBuilder.com.
But pursuing a romantic relationship in a professional setting is tricky. At best, you can end up finding your better half. At worst, you may find yourself without a lover or a job.
Dating Menus: You Can Change Yours
By Jocelyn Voo
CNN.com | Aug. 28. 2007

(LifeWire) — For singles suffering from Goldilocks syndrome — this person's too beefy, that one's too scrawny; this person's too rich, that one's not rich enough — niche dating may help you find a match that's just right.
Whatever your aim or interest, dating trends such as these go beyond wine tasting events and friend-of-a-friend referrals.
Do You Have a Frenemy?
By Jocelyn Voo
CNN.com | Aug. 27, 2007

(LifeWire) — After two years of backbiting, former best friends forever Paris Hilton and Nicole Richie returned to back scratching — just in time to promote another season of their reality television show, "The Simple Life."
Former friends and roommates Lauren Conrad and Heidi Montag, however, remained estranged as "The Hills" began its third season in August.
At its height, the showdown between Montag and her Machiavellian boyfriend Spencer Pratt and fan-favorite "L.C." threatened to overwhelm the reality show.
These two love-hate, friend-enemy relationships are high-profile examples of the "frenemy" phenomenon.
NYC: Single, Sexy & Smoking Hot!
By Jocelyn Voo
New York Post | Dec. 3, 2006

OVER the past five months, The Post surveyed hundreds of New Yorkers from all five boroughs on their dating and sexual habits. We crunched thousands of numbers and read scores of pick-up lines.
And frankly, at this point, New York, we don't know whether we should high-five you or wash our hands.
In this town, the stereotypical "boy meets girl" courtship is an anomaly. In figures gleaned from daters in our Meet Market pages and visitors to NYPost.com, we found lots of singles – 45 percent, to be exact – happily hopping from bed to bed. That a lot of hot sheets, especially since New York is the second most single place in the nation, trailing just behind Washington, D.C.
The U.S. Census tells us that 46 percent of us are unattached, but only a Post poll could tell how many of us have tried to seduce someone just because they're famous.
Or which borough is the sluttiest (Hint: It's the one with "Fuhgeddaboudit" signs hung all over.) Or when it's the right time to tell your love monkey about casual drug use.
And only a New Yorker could consider an affair with someone who lives five miles away "long distance." But that's exactly what 48 percent of Manhattanites think about all you borough-dwellers.
Regardless of whether it's about bedroom behavior or general relationship quirks, the numbers don't lie: New York singles have no problem kissing and telling.
High-five.
http://www.nypost.com/seven/12032006/entertainment/nyc_single_sexy_smoking_hot_entertainment_jocelyn_voo.htm
Meet Market
(sample NY Post weekly dating column, 8/06-12/07)
World Traveler Seeks First-Class Mate
By Jocelyn Voo
New York Post | Sept. 3, 2006

At times, it seems like the N.Y.C. singles scene should come with a surgeon general's warning: May cause permanent damage. Quitting dating now greatly reduces serious risks to your emotional health.
But some brave ones, like Allen, persevere. "You have to be out there, like with sports," the 44-year-old sales manager says. "One bad night doesn't end the season." It can, however, leave a lasting impression. On his worst date ever, "She wanted to skip meeting for coffee and go right to Nobu for dinner," Allen remembers. "It was our f irst date!" Gold diggers, if you're looking for a sugar daddy, you'd best keep working your weave and acrylics in the Meatpacking District, 'cause you aren't gonna get far with this guy.
Instead, the sports and wine enthusiast is looking for a modest woman to share his love of travel and fine food. "I'm attracted to women who are a little adventurous, humble and honest," he says. "Eyes that tell the story are sexy."
Ladies, if you want a shot with a guy who's into Jimmy Buffet and likes to cook (and claims to be good at it, too), Allen might just be someone worth risking emotional asthma for.
Relationships Q&A: Inside His Head
By Jocelyn Voo
Ladies' Home Journal online | April 2006

For his book VoiceMale , author Neil Chethik interviewed real husbands about their marriages and reports his findings in their own words. Here, he explains what husbands really think about their relationships, their wives, sex and commitment.
Q: For a man, getting married is a monumental transition in his life, both mentally and behaviorally. What's different about how a bachelor acts compared to a husband?
There's no question that getting married changes a man. In most cases, a new husband acts more responsibly than he did as a bachelor; he cares more about his work, his relationships, and the impact he's having on others. In rare cases, he freaks out. He may rebel in all kinds of small and large ways. My survey showed, however, that most men, while careful about making the decision to commit, are very happy in the first years of their marriage.
Niche Love!
By Jocelyn Voo
FHM magazine | March 2006


No luck in the general dating pool? Try these sites.
For the Jacked
Lovelorn bodybuilders can hit Trulyhuge.com—it's like creatine for the meathead's soul! But dopers beware: Owner Paul Becker maintains a zero-tolerance policy on bacne and shrunken nads. "We take a strict stance against steroid use," he says.
$50 for three months.
For Lot Lizards
According to owner Harlen Jacobsen, 18wheelsingles.com is the place for ladies seeking trucker love. "There aren't many women browsing the ads, so they do well," he says. "If this is your cup of tea, this is where you should be."
Free one-time 40-word ad
For the Afflicted
Disabled? Head to LoveByrd.com, a handicapped dating site. "Sometimes we get fake amputees," warns founder M. Brian Smith. "Once a girl posted a sexy photo of herself with no arms and legs — but it was obvious she'd erased them with Microsoft Paint."
Free to browse; $30 for three months